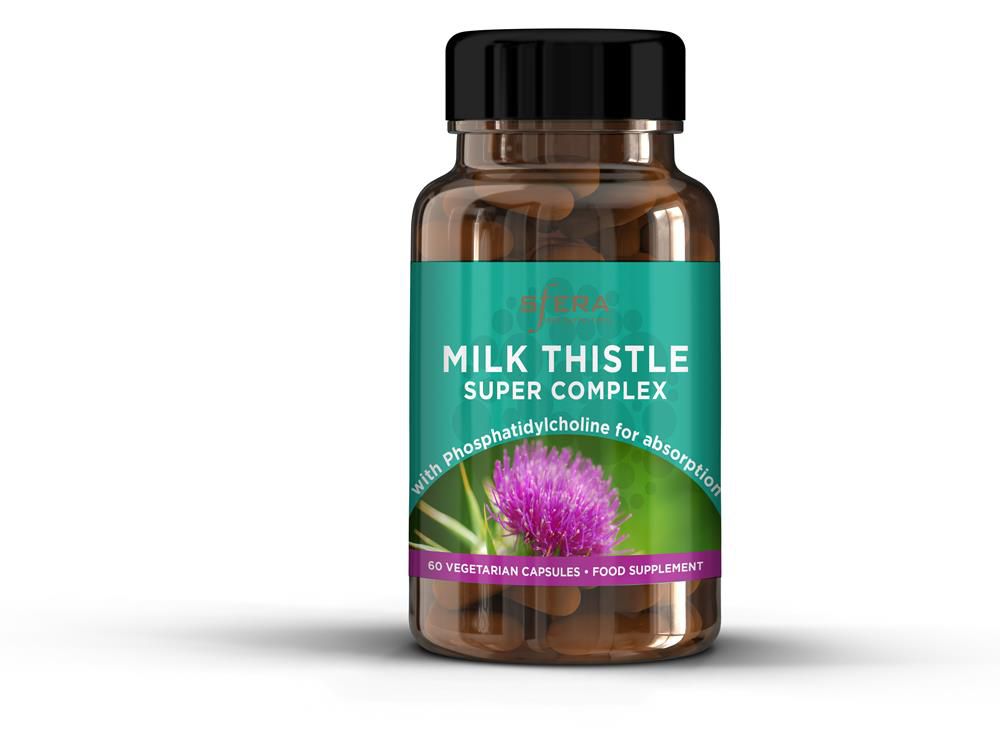 Sfera Milk Thistle Super Complex
Sfera Super Milk Thistle Complex with the addition of phosphatidylcholine can dramatically increase the absorption and delivery
An excellent natural detoxing remedy that supports the health of your liver
Addition of turmeric, artichoke and dandelion root assist the liver and gallbladder
Regulates digestion of fats, helps stabilise blood sugars and cholesterol
Reduces inflammation of the intestine
Helps reduce damage caused to your liver by alcohol, rich foods and certain medications
300mg of pure milk thistle seed powder with every capsule
The best-known benefit of milk thistle is its ability to support healthy liver function.
Increases the liver's production of Glutathione, a potent detoxifying agent
Stimulates the growth of new healthy liver cells
Improves bile flow in the liver & gallbladder
Protects the liver against damage caused by toxins & free radicals
Contains phosphatidylcholine for superior absorption
Supports liver function
Suitable for vegans and vegetarians
Sfera Milk Thistle Super Complex can dramatically increase the absorption and delivery when treating fatty liver and other liver conditions. The addition of turmeric, artichoke and dandelion root helps to assist not only the liver, but also the gallbladder to produce bile in order to get rid of toxins. Milk Thistle regulates digestion of fats, helps stabilise blood sugars and cholesterol, reduced inflammation of the intestine, and the excretion of certain hormones.
Ingredients
Sfera Milk Thistle Super Complex Supplement facts
60 vegetarian capsules
Serving size:  2 capsules
| | |
| --- | --- |
| Milkthistle | 300mg |
| Absorption factor | |
| Phosphatidylcholine | 80mg |
| Live supporting Blend | |
| Dandelion root | 50mg |
| Artichoke | 40mg |
| Turmeric | 40mg |
Warnings
Due to the bitter nature of the herbs in the formula it can increase bile production leading to loose stools.
Directions
Take one capsule morning and evening with food. You can take two capsules after a very fatty meal or after consuming alcohol.