Moringa
Moringa is an ideal dietary supplement because it supports balance from both sides:
It provides the body with the nutrients it needs, while helping it to detoxify and get rid of unwanted elements. This combination provides the body with fuel (nutrients) it needs to perform the two important functions: Feeding (adding fuel) and Cleaning (removing unwanted elements)
On the one hand Moringa is FEEDING the body with vitamins, minerals, all 8 amino-acids and protein, and because it is a real food, the nutrients are 'food-state'; meaning the body recognizes the nutrients and absorbs them easier than most chemically made nutrients.
On the other hand helps DETOXIFYING the body:
Here Moringa introduces elements that make the body an unattractive environment for bacteria and parasites. The anti-inflammatory working supports the cleaning out of excess acids
What are the benefits of moringa?
The benefits of moringa include:
Protecting and nourishing skin and hair.
Treating edema.
Protecting the liver.
Preventing and treating cancer.
Treating stomach complaints.
Fighting against bacterial diseases.
Making bones healthier.
Treating mood disorders.
For more information: Click Here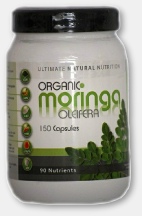 Moringa oleifera is the most widely cultivated species in the genus Moringa, the only genus in the plant family Moringaceae.
Common names include moringa, drumstick tree (from the long, slender, triangular seed-pods), horseradish tree (from the taste of the roots, which resembles horseradish), and ben oil tree or benzoil tree (from the oil which is derived from the seeds).
M. oleifera is a fast-growing, drought-resistant tree, native to tropical and subtropical regions of South Asia.
It is widely cultivated for its young seed pods and leaves used as vegetables and for traditional herbal medicine. It is also used for water purification. M. oleifera is considered to be an aggressive invasive species.