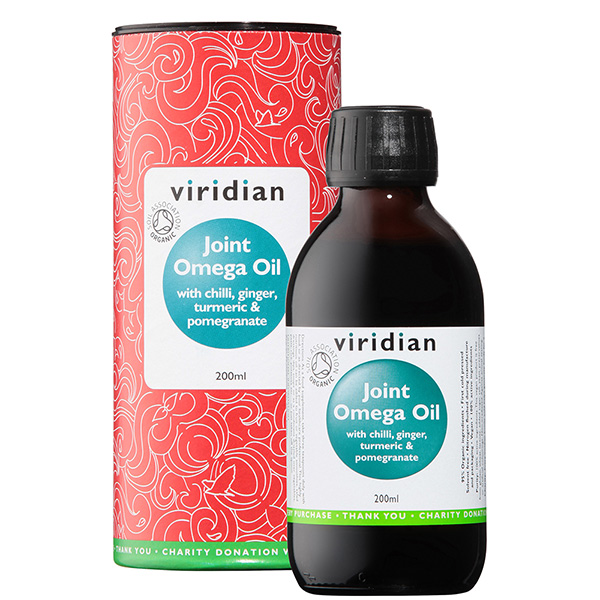 Viridian Joint Omega Oil (with spice & fruit extract) 200ml
Vegan, Kosher, Organic
Viridian's Joint Omega Oil is a blend of nutritional oils (omega-3 essential fatty acid dominant) with the addition of fruit and spice oils to enhance the properties and the flavour. Perilla seed is one of nature's richest sources of omega 3 fatty acid. This nutritional oil is 95% organic, certified by the Soil Association. Better for the environment and better for you.
Viridian's Joint Omega Oil featured in Woman magazine in the UK in November 2011 and generated considerable interest.
Directions: As a food supplement, take three teaspoons daily with food, or as directed by your healthcare professional.  This highly nutritious oil can be added to fruit or vegetable smoothies, salad dressings, dips, soups or as a condiment drizzled over vegetables,
pasta, rice, potatoes etc… or just taken off the spoon.
Approx. 40 teaspoons per 200ml bottle.
Each 5ml teaspoon provides approx:
| | | |
| --- | --- | --- |
| Ingredient | Weight | %EC NRV |
| Organic Perilla seed oil | 3413mg | |
| Organic Pumpkin seed oil | 364mg | |
| Organic Borage seed oil | 228mg | |
| Organic Black seed oil | 182mg | |
| Fruit antioxidant oil complex (Raspberry, Cranberry, Strawberry, Organic Pomegranate) | 224mg | |
| Spice infusion complex (Organic Ginger essential oil 0.1% Turmeric essential oil 0.1% Organic Sunflower infused with whole organic chillies) | 143mg | |
| Alpha linolenic acid (Omega3) | 2350mg | |
| Linolenic acid (Omega 6) | 1100mg | |
| Oleic acid (Omega 9) | 950mg | |
| Take alongside Joint Complex Veg Caps daily. | | |
PERILLA SEED OIL
PUMPKIN SEED OIL
BORAGE SEED OIL
BLACK SEED OIL
FRUIT ANTIOXIDANT OIL COMPLEX (Raspberry, Cranberry, Strawberry & Pomergranate)
Dosage
One to three teaspoons daily or as directed by a practitioner.
Potential applications
Inflammatory joint problems – including osteoarthritis / rheumatoid arthritis. General conditions associated with inflammation and oxidative damage. This oil may facilitate healing through the following mechanisms:
Improving omega 3:6 ratio
Providing a high antioxidant profile to dramatically reduce free radical damage (oxidative stress)
Reduce pain and inflammation
Support and activate detoxification pathways
Known contraindications
Not recommended for use during pregnancy.
Not recommended for those on blood thinning medication such as warfarin
Interactions
None known
Useful links
This product links perfectly to Viridian Joint complex capsule product and for external application the Jointment Balm (capsicum rich).